NEWS in General – August 3
GGH News
Other News
Mission: Nutrition switching days
Community back together again for Tour de Guelph and raises $134,000 in net proceeds
Guelph Family Health Team looking for teams to participate in its Activity Challenge
GGH News
Visitor policy revised
Our Incident Management/Pandemic Steering Committee will review the ongoing community spread through the guidance from Public Health and the Ministry of Health. As community spread increases/decreases, our visiting policy will change as needed to protect patients, staff and hospital environment.
The most recent change includes the removal of a daily limit on number of visitors a patient can have. There still is a limit of two at a time at the bedside, space permitting for two-metre distancing.
The Director of the Department must review visitors to patients who are COVID positive or COVID suspect. The decision to designate an essential visitor is the patients' or the Substitute Decision Makers' choice.
Exceptions can be made for patients who are high risk exposures to COVID from a staff member exposure. They may have an essential visitor if the following criteria have been clearly explained and documented:
The risk that the essential visitor may contract COVID
The essential visitor remains in the patient's room for the length of their visit and then promptly leaves the hospital
The essential visitor wears a procedure mask, gown and eye protection for the entire visit
For the complete, updated policy, click here.
Other News
Mission: Nutrition – back to Mondays and Wednesdays!
Hopefully you have had a chance to pop by the Bistro to enjoy a healthy $5 meal created by the awesome Bistro staff and subsidized by our Foundation donor, Ruby! In an effort to reach as many people and shifts as possible, starting this week, the days are Monday, Wednesday, Saturday and Sunday. (First come, first served!)

.
Community back together again for Tour de Guelph and raises $134,000 in net proceeds
Tour de Guelph, presented by Label Design Ltd, returned to an in-person group ride at the University of Guelph. After two years of virtual events, the community-cycling event, jointly organized by local Rotary Clubs and The Foundation of Guelph General Hospital, welcomed hundreds of riders for a safe and fun ride raising $134,000 in net proceeds.
"It was fantastic to see community members of all ages and skill levels come together once again to support Guelph General Hospital and other local charitable programs through Rotary" exclaimed Julie Byczynski, CEO of The Foundation of Guelph General Hospital. "Seeing so many smiling faces at the starting line – and finishing line — really showed us that this community missed the feeling that comes with a group ride like this," added Byczynski.
2019 was the last time the event was able to be held in person. That year, 750 riders raised $125,000 in net proceeds.
This year, 501 riders participated in Tour de Guelph. The event offered the option to Ride Anytime from June 10 to 26 and the option to attend the in-person group ride on June 26.
"Thank you to the 418 in person and 83 Ride Anytime riders, plus the 1,494 people who sponsored them," commented Frank Oudesluys, Tour de Guelph Co-Chair, Rotary Club of Guelph South. "Their commitment will help Rotary Clubs of Guelph South and Guelph Trillium address critical community needs such as food security, family and youth services, transitional supports, and environmental stewardship through local charitable programs".
Tour de Guelph has now raised over $850,000 in net proceeds for the community over its nine years. For the Hospital, it has funded or helped fund IV pumps, a centralized cardiac monitoring system, two non-invasive respiratory ventilators, a CT scanner, and a MRI scanner. This year, the Hospital's share of the proceeds will go towards purchasing three new ultrasound machines.
Marianne Walker, Guelph General Hospital's President & CEO stated that on-going community support of the hospital is so welcomed "Donations and fundraising events like Tour de Guelph provide the funds we need to purchase critical patient care equipment used by our healthcare team. The new ultrasound machines will be faster, more reliable and produce better images."
Tour de Guelph Co-Chair and Rotary Club of Guelph Trillium member, Clarence Haverson expressed, "We want to thank the amazing riders, sponsors, volunteers, in-kind contributors, donors and everyone who made Tour de Guelph 2022 possible. Tour de Guelph makes our community a better place to live, work, and play."
See who rode this year's ride by viewing the Finisher's Podium Online Rider Photo Album presented by Elinesky Schuett Private Wealth Management of RBC Dominion Securities Inc. and GuelphToday.com.
Guelph Family Health Team looking for teams to participate in its Activity Challenge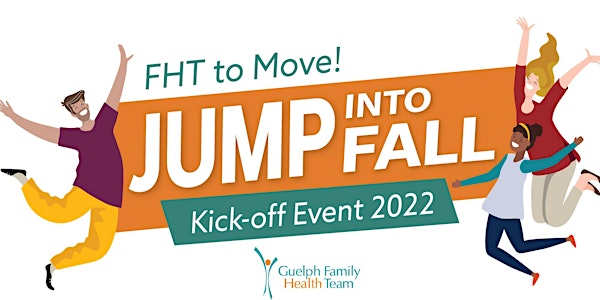 Guelph Family Health Team's FHT to Move JUMP into FALL Activity Challenge is back again this year! This is a FREE 3-week friendly competition with the intent of encouraging community members/surrounding area residents, local businesses, organizations, and groups to be more active, lead a healthier lifestyle and help improve mental/physical health. Maybe GGH would like to have a team or two or more!
The JUMP into FALL Activity Challenges kicks off with:
IN-PERSON Kick-off Event – Friday, September 16 from 1:30-3 p.m. at Riverside Park in Guelph
If you'd like to attend this event to kick-off the Activity Challenge and have a chance to WIN PRIZES, register HERE
3-week Activity Challenge – starts Friday, September 16 after kick-off event and runs until Friday, October 7. And yes, there will be more PRIZES!!!
To learn more, register/join a team, visit: https://guelphactivitychallenge.com/
If you'd like to see how much FUN participants had last year, check out the FHT to Move 2021 Recap video HERE